Deciding on what type of foundation to use for our dream house took some pondering.  We wanted something that was high performance but at the same time we didn't want to break the bank on our very first construction item.  We originally drew the plans showing a 12" thick concrete block wall, reinforced and filled with concrete for the three sides of the house that would be partly buried underground.  We showed the fourth wall as a 2×6 framed wall since carpentry work was something that we could do ourselves and concrete block was not.  In interest of saving money, we tried to do as much of the work on the house ourselves unless we couldn't do the work (masonry) or it just made better sense to pay someone else.  We had it in our head that this was going to be the least expensive method of construction.
Superior Walls
Somewhere along the line, we met the salesmen from Superior Walls and started talking to him about our project.  We ended up sending him our plans for the house and asked for a quote for all four walls in the basement.  He had some great suggestions about height of the basement walls and we adjusted our plans to match.  When we got the quote back for our walls, we thought we couldn't afford to use the Superior Walls
because the price was more.  Then the salesman talked us through what we were really getting with our walls and we re-ran our budget numbers and it turned out we would be ahead of the game by using them.
What We Gained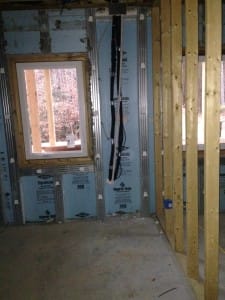 By using the Superior Walls, we were getting pre-cast concrete walls that were created using 5000 psi concrete which means that the walls are not only very strong but also impenetrable by water.  Had we gone with the concrete block walls, we would be adding waterproofing to almost all of the three walls that would end up underground.  So we got to remove waterproofing from our budget.  The foundation of a block wall is a concrete footer that must be dug and poured.  Something you might not be able to accomplish by yourself.  The footer for the Superior walls was stone that was leveled and smoothed, something we could do ourselves.  The Superior Walls included foam insulation within the walls and steel studs, which formed a cavity that could hold additional insulation. This was important to us since we wanted to go with higher than normal insulation levels.  Had we gone with the block walls, we would have had to cover the interior with foam board and then construct a false wall inside the block walls and run the wiring, plumbing, and place the insulation in the second wall, all at additional cost.
The final piece of information that pushed us over to the Superior Wall side was the fact that these walls were going to be so air tight.  We had already decided to seek an Earth Craft certification on the house and that meant that we would have to prove that we had low air leakage rates by passing a blower door test on the house. The thought of making the entire basement level air tight from the start was very appealing.
The End Result
After adding up all the numbers it just made more sense to use the Superior Walls.  It was also great to go from ordering the walls to having them in place in a week and a half!  Moving quickly onto the parts of the house that we could do ourselves was a liberating feeling.  After being in the house for a while now I can say that we truly love them.  They look great from the inside and the outside, and plus they are very sturdy.  If you are considering using them yourself, shoot me an email and I will send you a list of some design considerations when using this type of system.  How you lay out your house can make it that much easier to use!
Have any questions about Superior Walls? Let me know and I'll do my best to answer them!
If you're interested in learning more about Superior Walls, here is their website: https://www.superiorwalls.com