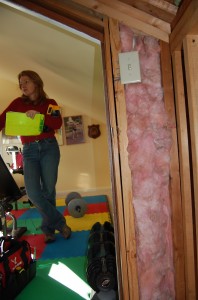 I love doing Home Energy Audits because every house is different and I feel a lot like a detective searching for clues as to where the leaks are.  There is one item that is fairly constant, if you have kneewalls, you more than likely have leaks and you have difficulty maintaining a comfortable temperature in the room with the kneewalls.  How can I make such a broad statement?  Have I been secretely looking into your storage areas?  No, I just know that I have seen a lot of kneewalls and for the most part they are not done well.
Take heart, there are ways to fix your kneewalls, to plug the leaks, so that they aren't sucking every ounce of conditioned air out of your bonus room, costing you money in higher utility bills, sending your HVAC equipment to an early grave and generally ruining the planet!   OK, you get the idea.
Start by assessing the situation, you might have to empty them out depending on how much stuff you have accumulated in there.  You need to be able to see the wall adjacent to the living area as well as the sloped underside of the roof and the point where the roof meets the floor joists.  Most kneewalls have insulation on the backside of the wall and not on the sloped roof section.  Usually this insulation is exposed and you can touch it.  The first thing you need to learn about standard batt insulation is that it only works and achieves the R-value on the package it came in if it is installed properly, according to manufacturer's instructions.  The most important manufacturer's instruction is that all batt insulation must have 6 sides of contact in order to work.  That means if you are looking at insulation and there is nothing covering it, you aren't getting anywhere near the R-value you thought you were.
The insulation must actually be touching something like drywall or plywood or the wall studs on all 6 sides.  So if you are looking at insulation we need to start at one end and completely cover it.  Drywall is great and fairly inexpensive, so is plywood.  If you are like me, though, there is no way you are going to be able  to haul a sheet of plywood up the stairs, through doors and around corners and wedge it into your kneewall by yourself.  So if you need something that is lighter weight but still meets the building code, buy a sheet of Thermax board which is a type of foamboard that is fire resistant.  It installs easy as well, since you just cut it with a knife.  I would even recommend that when you are done you tape the seams of the board to further prevent air infiltration.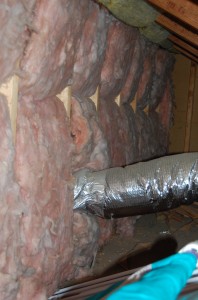 While this is probably the easiest way to tighten things up, in some cases the best thing to do is to bring the entire kneewall into your building envelope, which means insulate the sloped roof section so the cold air that is venting your roof cannot enter the kneewall at all. There are proper ways to install insulation to the underside of roofs, make sure you adhere to the building code.   Most of all, don't forget the drywall, remember, 6 sides of contact!
Insulating the roof instead of the wall will completely negate the fact that your kneewall door is a thin, hollow piece of wood with no insulation and probably no weather stripping.  A hollow core door is, at best, has an insulation value of R-1.
So let's clean out those kneewalls, head to the hardware store and get to work.  It's a great weekend for saving the planet, trust me.