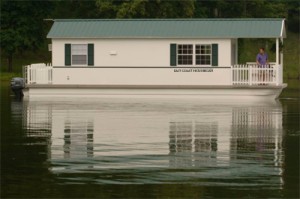 We all know the saying.  We even get excited when we hold a tiny wrapped gift in our hands.  But do we feel the same when it comes to houses?  There is a new trend afoot and it is called the tiny house movement.  When I say tiny I don't mean 1500 s.f. or even 1000 s.f.  These tiny houses are truly tiny consisting of as little as 65 s.f. up to 172 s.f.  (www.tumbleweedhouses.com)
The general consensus when I talk to people about their desires for their next house does not include cutting their floor area by quite that much.  I have to admit that my dream house is smaller than what I currently have, but not under 172 s.f.  However, interest in tiny houses has taken off.  There are blogs about how to build tiny houses, online forums where people share tips on living in tiny houses and YouTube video blogs about construction and design.  It seems to be an idea that is taking off literally from coast to coast.
Tiny houses can vary greatly, but one thing they seem to have in common is that they are mobile.  They are literally built on flat bead trailers that can come in different lengths but all have roughly the same width which is what is permitted by DMV to travel the roadways.  So we are talking narrow.  Even though the footprint of the house is small, these little house still pack in all the amenities of a larger houses, well everything but extra space that is.  Within their tiny house footprint they manage to fit a bathroom, a kitchen, bedroom and living space.
Most of the floor plans place the bedroom or just the mattress to a bed, up in the rafters to utilize the space below the gabled roof more efficiently.  This area is not considered a second floor so no stairs are required to access it saving a considerable amount of floor space.  Access to these upper areas is via a type of ships ladder.  The bathroom only has a small shower and a toilet and is positioned adjacent to the kitchen allowing them to share a sink.
While these houses are small, they are not lacking in quality.  In fact great pains are taken in their design and construction to insure that every cubic inch of space is utilized to its maximum potential with fold down shelving and tables that disappear when not in use.
So why build on a trailer?  Even if your intention is to never actually move your Tiny House anywhere, building them on a trailer is still a necessity because of building code regulations.  An inspection of the 2009 IRC Code reveals several deal breakers for Tiny House designers like the 7 foot minimum ceiling height, 120 s.f. minimum room requirement and the 7 foot minimum room dimension.  The Tiny houses have been used by people trying to quickly replace living space after hurricane Katrina, to add an additional bedroom for an in-law, or for adding badly needed office space.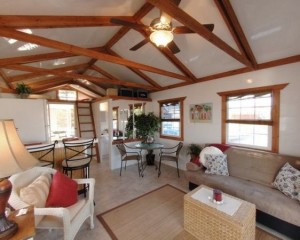 They're cute, they' tiny, and they are affordable.  You can order one online built to your specifications from Tumbleweed Homes for between $20,000 to $40,000 which is not bad for a completed house.  All you need is someplace to park it and hook it up.  All mobile home requirements by your local building codes office apply and mobile homes are not permitted in all jurisdictions, so check with your building permit office before you order one.
I have been interested in Tiny houses for some time, thought it might be a good summer project for my teenage son to build.  I even went as far as downloading some free plans online and watched some of the video blogs of the tiny Yellow House (https://www.youtube.com/watch?v=GEvYT3CMtQI).  But being a hands on kind of person I just wanted to see one completed by someone else first and I could never find one locally to look at.
Just last week while cruising through Deltaville, what should I run into but a Tiny House for sale.  This Tiny House did not have wheels though, it floats on pontoons and I found it at East Coast Houseboats.  I spent summers on a houseboat as a kid, but this is a far cry from my uncles houseboat.  These tiny houses include 2 queen size beds as well as complete kitchens and even screened in porches.  The best green fact about these houseboats is that the sewage is not discharged into the river, they hook up to a sewage system.  If you don't feel like a ride out to Deltaville, take a virtual tour at www.eastcoasthouseboats.com. These Tiny Houses are really worth taking a look at.  What an interesting way to make Tiny Houses fit into our waterfront plentiful area.  A very good thing in a very tiny package.