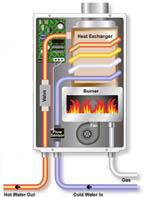 February is here again and you have no idea what to give that special someone for Valentine's Day right. You've tried chocolate, flowers, or maybe even dinner out but you still remember last year when you said you were going to start early and be more imaginative right? Well, Valentine's Day is almost here and you still have no idea what you're getting but never fear, Dan is here?
What to get. Well, warm and cozy is always a good idea, I know that puts me in a good mood, but I have to tell you that the full body Carhartt coveralls, although great, just aren't going to set the mood that you're looking for. So, how about a little suggestion and no, it has nothing to do with Victoria's Secret. If your wife is anything like mine, she's always cold. It doesn't matter where the thermostat is set, if it's winter, and it is, then she's cold. My suggestion? A tankless hot water heater. No, I'm not kidding.
On a chilly, overcast day when her toes never seem to thaw out, there's nothing quite compares with a long, warm soak in a hot tub. I know what you're saying, "But Dan, I thought you guys were promoting using less energy and filling up our tub takes 90 gallons!" Never fear! I have the solution. You can have your soak and save money too! The answer is a tankless hot water heater. Whether you replace your energy hog hot water heater or just add an instant under the counter model you can be the hero by getting an instant and endless supply of hot water to your sweetie's tub. Whole house units are great if you already have a natural gas or propane water heater to begin with. They take up less space and simply mount to the wall. They are called tankless because they have no reservoir of hot water to keep hot at times when you are not using the hot water. When you open the tap it starts heating and you will never run out of hot water again. Rinnai is the best on the market for about $1000 with a $300 tax rebate for installing one in your house.
If your hot water heater is electric, tankless whole house systems exist but I would not recommend them. The power requirements are large and it is a difficult retrofit. But don't despair, I have a solution for you as well. A smaller version that fits under the sink that plugs into a 110 circuit and supplies instant on demand hot water to your tub. No more gallons and gallons of cold water going down the drain while you wait for something warm enough to fill the tub with. The units are tiny and not too difficult for the avid weekend warrior to install.
Of course, the upside of any home repair project is the new tools that you must have to complete the job because everyone knows that you can't do the job without the right tools. The bare minimum requirement for this type of job would be a Dewalt cordless drill/driver 18V combo kit for just a little over $500 at Lowes. This kit has what I consider to be the best cordless driver on the market and one of the other six cordless tools in the kit is the flexible floodlight which you will have to have for that under the counter work. And one other item you can't work without is the FatMax 25' tape which comes in at about $30.
I have been through many cordless drivers and many a tape over the years and these are the only ones I will purchase anymore.
So you get to make the wife happy and get a little something for yourself in the process. That's what I call win‐win. Thanks for reading.