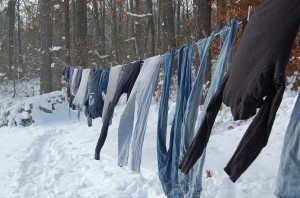 Hang a clothes line.  It doesn't have to encompass your whole yard, unless you have a really small yard.  Just tie a rope from your deck to a tree.  Make it just long enough for one load of wash.  Nothing fancy, just a thin rope and some clothespins.
Then, unplug your dryer.  Force yourself to carry those wet clothes outside.  I know this sounds radical, but sometimes that's what it takes to get us to make a change.  Studies show that it takes 30 times of doing something to make it a habit.  So make a plan to do it for a month and stick with it.
That means if it rains, you wait a day to hang your clothes.  You will begin checking the weather report in the morning and planning when to run your laundry and hang your clothes.  I promise you that if you stick with it for a month, you will be addicted.  The smell of clothes hung outside to dry is better than any perfumy odor from a dryer sheet and healthier for you I might add.
You won't know what you are missing until you try!