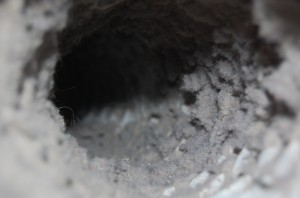 Since you have been using your dryer so much more now, it's time to do a little maintenance on your dryer.  While it is unplugged, go ahead and pull it out and disconnect that dryer vent.  Get yourself a long handled duster like a swiffer and start at the dryer end and  clean out the hose.  Go as far as you can from the inside then head outside.  Take of the cover on the outside and clean from the outside end as well.  Dryer vents should not be too long so you should be able to get to the entire line by cleaning from both ends.  Depending on which kind of dryer vent pipe you have, the job will either be an easy one or a hard one.
The best type of dryer vent pipe is the hard metal pipe.  The smooth interior surface makes this kind of pipe a cinch to clean out.  The lint will simply wipe away and fall out.  The flexible type of dryer piping is not so easy to clean.  If this is what you have, and most people do, you will have to wipe it several times and keep checking to see if you got it all.  Keep at it, dryer lint is a tremendous fire hazard, and is especially a problem in the flexible type of piping since is much more flammable.  You may even find some little critters in your vent when you reach in from the outside, they need to relocate as well.
Check yours frequently, we check them when we do audits and it's rare that we find one that isn't at least partially clogged up.  Cleaning your dryer vent helps to improve the efficiency of the unit, that is, when you turn it back on right?  I would love to see pictures of what you found!  Post them here or on our Facebook page at Dan Guinn Homes.