Change your light bulbs.  All of them.  I know if you have been reading any of my articles, you know how I feel about using incandescent light bulbs.  And you are changing yours out slowly, one here and there as the old incandescent die out.  This may seem like a good plan, however, the longer those old bulbs stay in place, the more energy you are wasting.  There are so many choices out there now (LED's, CFL's, instant on, dimmable, even colors) that save you sooo much money that waiting to install them till the old ones are dead doesn't make sense.  Here's the math:  An incandescent bulb rated at 65 Watts produces 620 Lumens giving it an efficiency rating (lm/w) of 10.  A comparable CFL rated at 15 Watts gives off 675 Lumens with an efficiency rating of 45.  A comparable LED rated at 12 Watts gives off 730 Lumens for an efficiency rating of 60.  With numbers like this, who would continue to use an Incandescent?
And what about those halogen light bulbs?  Is there any way to swap out those bulbs?  Absolutely.  There are now replacement LED's that fit right into your existing halogen fixtures and they are available right here in Gloucester.  I had a client just last week that had a considerable amount of fine art work displayed in her house.  The pictures were gorgeous; the only problem was that each painting had its own halogen fixture to illuminate it.  All in all she had 20 of these fixtures, each with a 65 Watt halogen bulb.  The LED equivalent bulb only used 4 Watts of power.  For each fixture that is a 61 Watt savings.  Let's calculate that out over the 30,000 hour life expectancy of the LED bulb and see just what kind of savings this homeowner was looking at.
(64 Watts/hour) (1 KW/1000 Watts) ($0.10/1 KW) (30,000 hrs)= $192 per bulb.  If you multiply the $192 times the number of bulbs, the homeowner's savings over the life of those 20 bulbs comes out to be $3840.00!  Still wondering if it's worth it to change out your old energy hog light bulbs even before they die?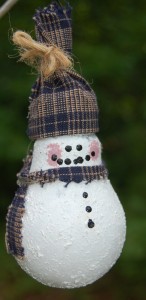 Being the avid recycler that I am, I had to come up with something to do with all those old bulbs.  Here's a picture of my incandescent snowman ornament.  I am currently working on my halogen snowflake sun catcher.  If you have any suggestions, they would be greatly appreciated.  Please link to m  articles on your Facebook page and send links to friends.  I am always looking for new subscribers!  Thanks for your help and thanks for reading.