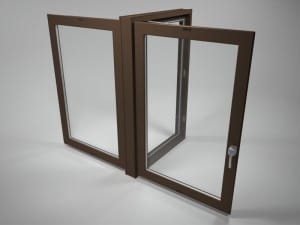 Well, Genius actually is their name.  Genius Windows are manufactured by Deceuninck North America in Monroe, Ohio.  These innovative new windows were unveiled this past spring at the National Convention of the American Institute of Architects.
For years Europe, a much more energy efficient culture, has been looking at American made windows and calling them a poor waste of good glass.  American windows have notoriously performed far below their European counter parts on leakage, thermal conductivity, and overall R-value.  When the extremely energy efficient construction standards of the European PassivHaus arrived in the U.S. as Passive House Institute U.S. (PHIUS), no American windows could meet the standards set by the rigorous program.
During the last Solar Home Decathlon held in Washington D.C., I even noted that the ODU/Hampton University house contained European windows since they were building with energy efficiency in mind.  I checked on the Anderson Window website and their best windows are rated as having a U factor of .28.  Energy Star qualifies all windows achieving a U factor of .30 or lower as Energy Star windows stating that they are more efficient than standard non-Energy Star windows.  To help you better understand what a U factor is let me explain where the number comes from.
Most people understand the R-value of insulation.  Your walls probably have R-13 fiberglass batts in them since they historically have been the most common type of insulation.  If you were to lay a piece of an R-13 batt on the floor and then lay a piece of fiberglass batt from your ceiling beside it ( R-38) you would see that the R-13 batt is 3.5 inches while the R-38 batt is 11 inches thick.  The R-value, when speaking of insulation, is referring to the materials ability to resist heat flow through its body.  The higher the resistance, the higher the R-value
So if higher R-values are better for keeping your house warm, why would you want a lower U Factor for your windows?  U factors are calculated by taking the inverse of the R-value (1/R-Value = U Factor).  I know this is confusing, sometimes I think the window manufacturer's want it that way.  So a window with a U Factor of .28 like the Anderson Window has a R-value of 3.6 (1/.28= 3.6).  This means that when you build a wall in your house and fill it with R-13 insulation which meets code and then fill that wall with good American made Anderson Windows, you will have a bunch of holes in your well insulated wall that only have an R-value of 3.6.  Think of a chilly night and pulling up a blanket that is nice and thick around the edges with a bunch of large thin spots in the middle, that's what windows do to walls.
That is why the introduction of the Genius windows is so exciting, this is truly a break-through in window manufacturing for American made windows.  These windows can be put together with a number of options to meet your customized needs.  One of these options produces a window with an R-value of R-14!  Higher than the insulation in the surrounding wall.  That is an amazing breakthrough.  Finally a way to have big beautiful windows in your house without compromising on energy efficiency!  You can take a look at the video of the windows for yourself at https://www.geniuswindow.com/press/.  I was very impressed.
Not only do these windows not compromise your homes energy efficiency they actually help heat your home.  The windows are made up of a double paned, argon filled window panel on the inside connected to another double paned, argon filled panel that opens to the outside with a super sealing locking mechanism.   Between is an air filled chamber.  When the windows are closed the central air filled chamber heats up from the sun.  A small vent on the top of both the inside and the outside panels is heat activated and allows the heated air from the central chamber to be vented into your living space during the cold winter months and into the outdoors during the warm summer months.  That is the genius part.
I do believe this is the most exciting advancement in energy efficiency that I have seen in a long time.  I know I am just an energy efficiency geek, but you have to admit this is good enough to knock your socks off!  I am glad to see that we Americans can finally compete in the global window market.