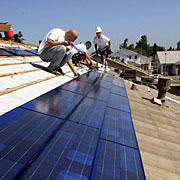 I know what you're thinking, not those ugly, dirty, gigantic panels on my roof that make my house look like something out of a  bad science fiction movie! If that's your current impression of solar, then you need to come into the 21 st century. Solar is not what it used to be. My interest was piqued recently when my son decided to build a solar powered battery charger for one of his robotic toys. We got online and ordered a small pair of panels measuring 3"x3". When they arrived I was shocked at how different they were from what I expected. Living in Virginia, there just aren't that many houses around that have solar panels on them and the ones I have seen have been terribly old and looked pretty bad. The ones that came in the mail were flexible sheets just a little thicker than a piece of paper! I wasn't buying that the thin, $6 panels were real until he got them hooked up and they actually worked.
Solar is Not What It Used to Be!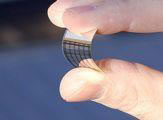 If your impressions about solar are similar to what mine were, and chances are, if you live on the east coast where exposure to solar is not what it is in the west, then it's time to do a little research. There must be something to this if 185,000 households in the U.S. have turned to solar and are generating some of their own power. Experts are saying that those numbers could double in just the next couple of years. Why are so many people jumping on the solar bandwagon? Because it works and let's face it, the cost of energy is not going down anywhere in the near future and with incentives from the government the future of solar is getting brighter.
Three Reason Why Solar is a Great Idea Today
Finding ways to reduce the amount of energy you use on a daily basis makes sense in a variety of ways.
1.  The Financial Aspect
One way or another, you are going to pay for energy from now until the day you die and chances are the prices are going anywhere but down. So whether you pay them in ever increasing amounts over the remainder of your life or pay a chunk up front now to ensure that you never have another energy bill or some hybrid of the two is up to you. Paying now for a solar system that will produce all the energy you need can eventually pay for itself and then continue producing for you. Even if energy prices simply remain where they are this makes sense. However, the idea that the energy prices are going to remain the same is a pipe dream if I ever heard one. The Department of Energy says that the average solar power system has a life of 30 years and can pay for itself in a matter of years depending on your location maybe as little as 5 to 7 years. I plan on living longer than that, do you?
2.  The Whole Dependent on Foreign Hostile Nation's Issue
Regardless of your politics, reducing how dependent we are for energy on people who hate us is a no‐brainer.
3.  The Environmental Angle.
Whether you believe you are doing your part to stave off global warming or simply being a good steward with what you have been blessed with,  once again, it's a no‐brainer.
Adding Solar To Your Home Can Be Simple
You can add a simple system to your house with little more than the panels themselves, a power inverter and a couple of disconnects. The idea is that you have panels on your roof or in your yard that are south‐facing and angled to receive the maximum amount of the sun's rays for your part of the country. The panels generate DC power and send it to your power inverter which translates the power into AC which is what your existing house is wired for. You then, just have to use the power. Of course, you generate a lot of power during the day and nothing at night. Not to worry, the power you need at night you get the old fashioned way, you pull it off the grid from the power company.
Make Money Back from Solar Power on Your House
The best part about the solar power is that if you produce more than you need during the day, you sell the excess back to the power company. How do you do this? In most states, you are permitted to install a power meter that spins both ways. When you make more than you need, the meter runs backwards and when you need power it runs forwards. You only pay for how much the meter spun in the forward direction at the end of the month.  It's a great idea which allows you to benefit from using solar energy without the mess and expense involved in maintaining a huge set of batteries to get you through the night.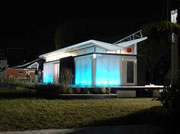 So, if this idea is so good, why don't we see more of President Bush's Million solar Roofs in a neighborhood near you? There are many states that have decided that solar is an industry worth supporting and have provided helpful tax incentives to take the initial sting out of investing in solar technology. Unfortunately, Virginia is not one of those states.  Although Virginia has benefited from net metering (that's the part about the meter running backwards) they have not put any financial incentives in place like our neighbors Maryland and North Carolina have. Why do I care? This is where you reread the part about using less power and hostile nations. Or better yet, take a field trip. Yes, a good old fashioned field trip to the Science Museum of Virginia in Richmond. VA Tech is finishing up the construction of their award winning completely solar house. (Take a look online:  https://www.smv.org/exhibitions/visiting/solarhouse/jan242007eventflier.pdf).   It will open to the public in mid February. To kick things off, state Senator Frank Wagner has volunteered to move into and live in the solar house. He says he is staying plenty warm and is enjoying all of the home's amenities, including the big screen TV.  (https://wtop.com/?nid=25&sid=1045173&sidelines=1 ) I guess there must be something to this solar phenomenon after all!
I would like for all of us to learn to conserve and focus on being more independent when it comes to power. Maybe after a little research, you might join me.